October 27, 2012 - The Irish Storm Norman
---
Undefeated and still ranked number five, Notre Dame traveled down to Norman, OK to attempt to due the impossible against the Sooners. Under Bob Stoops, Oklahoma had an impressive 79-4 record at home and never lost two games in one season. With the Sooners already losing to Kansas State at home, it was a given Oklahoma would win. By game time when it was announced George Atkinson III had stayed home with illness, the spread increased to -13 for OU. For the second time in three weeks, College GameDay was on hand for the Notre Dame game and picked the Sooners to win by 17. But that would not stop Irish fans from traveling to Norman to take in a rare game in Norman. All-time Notre Dame led the series 8-1 and were 4-0 in Norman, including the historic streak snapper that every Sooner fan remembered.
With a "stripe-out" in effect, Oklahoma received the ball to start the game. They went on an efficient up-tempo attack with four straight passes. The drive derailed after an errant snap when Landry Jones was not ready, netting a loss of 19 yards. Oklahoma punted and Golson took over. In an attempt to get Golson comfortable (and trusting the defense), three straight rushes brought up 4th and 1 and a punt. Oklahoma once again went with a well executed attack picking the holes in front of our defense, which would culminate in a 28 yard field goal. Not wanting to play from behind, two plays later Cierre Wood broke through the center of the line untouched and ran 62 yards for a touchdown. Notre Dame had trailed for 48 seconds.
Both defenses would force a number of punts until Kyle Brindza scored hit a 34 yard field goal after a five-plus minute drive covering 64 yards. Oklahoma would answer however with their own drive of 66 yards which they thought tied the game on a rushing touchdown by Blake Bell, which would have been noteworthy as the defense had not allowed a rushing touchdown all year. But a holding call brought the play back and Oklahoma settled for a field goal.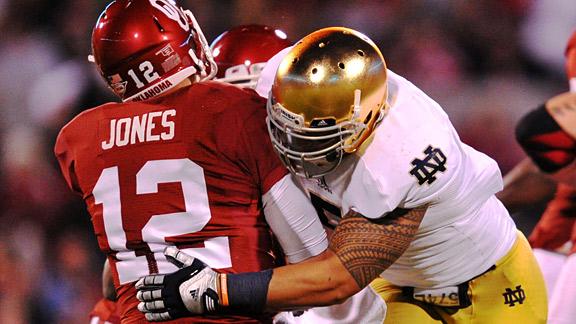 As the second half opened, Notre Dame completely took the air out of the ball. Notre Dame started the half with a seven minute 12-play drive ending in a missed field goal. Oklahoma felt they still had a chance but were forced to punt after a three minute drive and Notre Dame took over at their own 3. Once again the Irish used a heavy rushing attack to move down the field. On the second to last play of the quarter, Golson would keep the ball and take a hard hit. From the stands the view was: Golson went down, dropped the ball, Oklahoma recovered and returned it for a touchdown. Through the screaming crowd, the fans could not hear the whistle that Golson was down before the ball came out so the play came back, but Golson was still on the ground. Did he get hit in the head again? Was his concussion back? He eventually walked off on his own but Tommy Rees would need to relieve Golson (again) and confidently found Tyler Eifert for a first down on the final play of the quarter. Notre Dame had held the ball for eleven and a half minutes in the third quarter.
When the fourth quarter started, Golson was back in. We would later learn that he only had the wind knocked out of him. Either way, the first play was a wide receiver pass by John Goodman that was lucky to not get picked off. A 44-yard field goal by Brindza made the score 13-6. Oklahoma was still in the game and after a drive stalled followed by a drive with long passes, they found themselves at the one yard line. This time the Belldozer would not be denied and the score was tied. Just as earlier Notre Dame trailed for 48 seconds, they did not want to be tied either. Two plays later Golson found Chris Brown for 50 yard completion and Brown's first collegiate catch. Five plays later, Golson scored the go ahead touchdown on a QB draw (Eifert also had an amazing almost-touchdown catch the play before). Oklahoma attempted a comeback but Dan Fox would make a ball-separating tackle that allowed Manti Te'o to record another interception and give the ball back to the offense. Brindza would make a 46-yard field goal off the turnover. Jones would throw an incompletion the next 4th down and the ball went back to the offense. Already in the readzone, Theo Riddick easily ran 15 yards for the third and final touchdown.
Oklahoma would get into the red zone on their final drive, but undisciplined play and a game ending sack by Prince Shembo concluded what the fans already knew. The Irish fans were already moving into the corner near the Notre Dame Band as the play occurred. Notre Dame had proved their worth and handed Oklahoma a second loss at home. The defense would hold Oklahoma to 0.6 yards per rush (15 yards on 24 carries). Te'o would finish with an INT, 11 tackles and a sack. Most importantly, Notre Dame had zero turnovers and only a single penalty (an offsides by Louis Nix when he jumped anticipating the snap count).
The story through eight games would be the defense. They were shutting teams down, including not giving up a defensive touchdown in four straight games. They were also holding opponents to well below their scoring average.
Opponent
Points Scored
Game Before
Points Scored
vs ND
Purdue
48
17
#10 Michigan State
41
3
#18 Michigan
63
6
Miami
44
3
#17 Stanford
54
13
BYU
24
14
#8 Oklahoma
52
13

               1  2  3  4   F
#5 Notre Dame  7  3  0 20  30
#8 Oklahoma    3  3  0  7  17

For the first time since 2002 and the 20th time overall, Notre Dame started the season 8-0. This also coincided with the first perfect October since 2006.
Keywords:
football
,
oklahoma
,
bob stoops
,
george atkinson
,
gameday
,
landry jones
,
everett golson
,
blake bell
,
tommy rees
,
tyler eifert
,
john goodman
,
chris brown
,
dan fox
,
manti teo
,
prince shembo
,
band
,
louis nix
,
purdue
,
michigan state
,
michigan
,
miami
,
stanford
,
brigham young
Posted On: 2013-01-25 00:15:04 by IrishTrpt07
---
Comments:
Were you there? Have more to add? Leave a comment and let us know!